Parish Blog
Written by OLSOS Parish
Thursday, 05 December 2013 11:27
The Church desires us to recognize the differences from one season to the next in the Liturgical Year. For example, different colors are used in different seasons, and, similarly, we hear and sing different things in different seasons. The Church has even given us specific Mass Ordinaries for some of these seasons, just as She has given us specific Mass Propers for each Sunday and feast day. Mass XVII is the Gregorian Chant Mass Ordinary specific to Advent and Lent. For this reason, we are learning this Mass setting together this Advent: so that we can honor the tradition of Holy Mother Church and enrich our own liturgy.
To help with this transition, here are a few videos to guide you through the Kyrie, Sanctus, and Agnus Dei which will be sung during the Advent Season:
Kyrie XVII-b, for Sundays in Advent and Lent, Vocals by Matthew J Curtis from St Antoine Daniel
Sanctus XVII, for Sundays in Advent & Lent, Vocals by Matthew J Curtis from St Antoine Daniel
Agnus Dei XVII, for Sundays in Advent & Lent, Vocals by Matthew J Curtis from St Antoine Daniel
Written by OLSOS Parish
Thursday, 14 November 2013 10:47
From patheos.com:

---
November 5, 2013
By
Fr. Dwight Longenecker
The old debate still rages in which Catholics dispute with Protestants who say that salvation is by "faith alone."
Yes,we like to pick out the verse from the epistle of James which says that "faith without works is dead." If we're going to talk the talk we have to walk the walk. Action speak louder than words and the old saying of St Francis (not) that you should "preach the gospel at all times- use words if necessary."
While it is true that faith without works is dead I'd like to stand that on its head and remind readers that it is also true that "works without faith is dead." Yesterday I commented on Cardinal Maradiaga's speech on the new evangelization which Rocco Palma posted here on Oct 28. I want to listen to more of the Cardinal's teachings in order to give him the benefit of the doubt, but I found this particular speech very discouraging. I agree with the points where he was affirming the need to be the church of the poor, to minister to the needy and to show the compassionate face of Christ. I agree that the best evangelization is when people see the love of Christ in action through the lives of saintly people.
What was disturbing was the lack of emphasis about the core of the gospel itself. While there were inspiring thoughts on the need to serve the poor and be the church of the poor, and while there was a reflection on the need for the structures of wealth and power to be overturned, there was nothing about the what I call the "old, old story."
The "old, old story" is the simple message of mankind lost in the wilderness of selfishness and sin–alienated from God and the sworn enemies of god. There was nothing in the Cardinal's message about the God who so loved the world that he gave his only son so that whoever believes in him might be saved. There was nothing there about the saving mystery of the cross of Christ an the power of the resurrection. Nothing there about the saints, the sacraments or the salvation offered by the church. There was not even a hint or a mention to remind us that this is the core gospel and that the primary work of the church is to proclaim that gospel in words and works for the salvation of souls.
I have to be honest. I smell the sweet old intoxicating fragrance of Pelagianism…the seductive heresy that reduces the subversive and dangerous mystery of the gospel to good works. I can't avoid the conclusion that the Cardinal's message sounded like "let's all feed the hungry and be nicer people and overthrow those nasty rich people and then everyone will want to be Catholics." That doesn't work. We've already learned for the last fifty years that it doesn't work. People aren't dumb. If that is all we do they conclude that you can be a perfectly nice person without religion, and they're right. They're right! Why do you need religion at all if all it consists of is being a nicer person and "We can make a difference, yes we can!"
As faith without works is dead, so works without faith is dead. Works without faith is never more than an ideology. It's the false religion of trying to make this world a better place rather than trying to make our way to a Better Place. When religion is reduced to an ideology it is actually worse than a secular or atheistic ideology. At least the secular ideologues know that they are following an ideology. Religious ideologues believe they are doing God's will in the world, and that is truly a frightening thought. Good morning Taliban–like Caliban–another monster who inhabited a primitive and brutal place a naive girl thought was a brave new world.
The Pelagian mistakes the fruit of faith for faith. Because the truly sanctified person of faith serves the poor, loves his neighbor, eschews riches and lives a radiant life of witness the Pelagian thinks that faith consists of doing those things. He thinks that if he does those things then that is the faith and that people will be drawn to the faith through his example of doing those things. Wrong answer. Those actions are the result of faith. They are empowered by faith. The person of faith truly wants to do those things because they have been transformed by the saving action of God.
This is why the core ministry of the church is not social action. The core ministry of the church is to save and sanctify souls. As a consequence of this first ministry the saved and sanctified souls will naturally and of their own transformed desire love their neighbor, feed the poor, minister to the needy and transform the world. The FIRST commandment is this: You shall love the Lord your God with all your heart, soul, mind and strength. The second commandment is like–namely this–you shall love your neighbor as yourself.
The second commandment hangs on the first. You cannot truly love your neighbor unless first you have learned to love God, and likewise you cannot truly love God unless you love your neighbor, but there is a priority. Loving God comes first, and that brings the transformation which empowers the proof in that you soon learn to love your neighbor.
Furthermore, "loving your neighbor" is more than simply feeding and clothing him. Yes, these things are necessary and they are part of loving one's neighbor, but to truly love another is greater than simply being kind to them. It means having a true heart of compassion and wishing to be with them and share life with them. This kind of love is heroic and it is more, much much more than simply running a food kitchen. This is why the atheists are right when they say that they can do that sort of thing without God.
The kind of love of neighbor I'm talking about is the kind we see with Mother Teresa, when her eyes light up with passion and a supernatural love as she embraces a leper. It is the love of St Maximillian Kolbe who not only steps in and offers his life for a fellow prisoner he doesn't even know, but as he starves in prison he leads the other dying men in hymns, jokes and stories to keep their spirits up. It is the love of St Isaac Jogues who tortured and mutilated by the Hurons, dumped penniless and nearly naked on the shores of France, asks to return to the Huron….because he loved them, and then was tortured again and finally martyred…because he loved them.
This kind of love is more, much more than simply helping the poor. It is a supernatural love which overcomes the world, and it only comes through the powerful transaction between a soul and Jesus Christ the Lord. It is this faith which overcomes the world, and it is the proclamation of this faith which is the primary mission of the church. . .
Read more...
Written by Sister Parish Ministry
Friday, 18 October 2013 09:45
17 Okwikumi 2013
Oriiregye (Good Morning):
It was just an ordinary day when I took a moment to send instructions to the Parish Office to send a check to Ugandan Water Project for the $1,000 donation that we had received at the Dessert Auction. Imagine my surprise when the Parish Office informed me that an additional $4,000 had been received from an anonymous donor and that they would be sending $5,000 to Ugandan Water Project instead!
Of course, the first thing that I did upon hearing this astounding news was to place a call to Fr. Reuben Mubangizi, the Pastor of Mary, Mother of the Church, Nyakishenyi Parish, in Uganda. Now, understand that the time difference between the Pacific Northwest and Uganda is 10‑11 hours, depending on whether or not we are observing daylight savings time. So I checked the clock first. It would be about 9 p.m. there. In Uganda, supper is generally taken late, thus Fr. Reuben had just finished taking his evening meal of matoke (steamed plantains, the national dish of Uganda) and beans, another staple food in the area. Upon hearing the good news of both our fundraising efforts for the water project as well as for the needs of the Parish, Fr. Reuben exclaimed, "We are very grateful! God Bless you!"
Fr. Reuben later emailed, "Warm greetings to you and hoping that you are fine. . . . I am very happy and grateful to have heard you on the phone when we talked together [last week]. Thank you very much for your mobilization efforts."
The challenges faced by our Sister Parish are many. Mary, Mother of the Church, Nyakishenyi Parish, is located in a rural area, about 60 kilometers north of the Kabale, where Fr. Justus Kiiza serves as the Financial Administrator for the diocese. Nyakishenyi Parish is a hilly place with fertile soils. Most of the people in our Sister Parish are subsistence farmers and very poor, living on less than $1.25 per day. Most of the cultivation is done by women, while men move about the country seeking employment. Some cash crops, such as coffee, tea and trees, are grown on a small scale.
Although Fr. Justus reminds us that it is not up to us to meet all of the need of our Sister Parish, we are called to by Catholic Social Teaching to live in solidarity with our brothers and sisters in Christ and to put the needs of the poor and vulnerable first. In a recent address at World Youth Day, Pope Francis said, "With these two things you have the action plan: the Beatitudes and Matthew 25."
Mass being celebrated outside during the construction of the church
The funds raised at the Sister Parish Ministry's Dessert & Silent Auction in September will be directed to the needs of our Sister Parish. Our Sister Parish has various projects. Topping their list of priorities is construction of the church at Parish Center, which is located in a village called Kajumiro. Demolition of the old church began shortly after my visit in November 2010. Since that time, our Sister Parish has been diligently raising funds to build the church. By 2012, the church had been raised to the roof beam level. Since that time, the parishioners have raised enough money to enter into a contract with a factory that produces the iron bars and sheeting necessary to complete the roof. The total cost of the roof will be 260,000,000 Ugandan shillings, equivalent to $102,362 U.S. dollars. Our Sister Parish has raised the 30% down payment necessary for the roof and has indicated that they hope to have the roof completed by the end of January 2014. On the Feast of the Assumption, a special collection was made. The women of our Sister Parish had raised nearly $8,000 for the roof.
Completion of the church roof is important as the rainwater storage tank will be tapping water from the church roof and at least the bottom portion of the roof must be complete before installation may begin.
I plan to return to visit our Sister Parish in February 2014. Perhaps I will find there a completed church in which to worship with our brothers and sisters in Christ and be able to share in their joy at having clean drinking water. In the meantime, please pray for the needs of our Sister Parish, especially the completion of the roof at Parish Center.
Ruhanga akuhe omugisha (May God Bless You),
Tammi Murray
Sister Parish Ministry Chairperson
"For I was hungry and you gave me food, I was thirsty and you gave me drink, a stranger and you welcomed me, naked and you clothed me, ill and you cared for me, in prison and you visited me."
(Matthew 25:35-36)
Written by OLSOS Parish
Thursday, 03 October 2013 10:19
From www.ncregister.com :
---
Pope Francis has given a new interview to the Italian journalist and atheist Eugenio Scalfari.
Some of the things he said are already raising eyebrows, including remarks he made about trying to convert people.
Here are 8 things to know and share . . .
1) How did this interview come about?
It's an outgrowth of a previous written exchange that Pope Francis had with Scalfari.
At that time, Scalfari said that he hoped at some point to meet the pope to engage in dialogue, so the Pope picked up the phone and arranged a meeting between them.
You can read the full text of the interview here.
Reportage from Edward Pentin here.
2) Are there reasons for caution in reading this interview?
Yes. First, the interview is written partly as narrative, and it is not clear how accurate the pope's words are or if the context they are set in is complete.
Unlike the recent interview the Pope did with La Civilta Cattolica, we do not have an indication that the Pope reviewed the Italian text prior to publication to ensure that it represented his views without distortion.
Second, there is the matter of how good the translation is.
Problems with the translation are already being reported.
3) Does the interview have a bias or angle it's working?
Yes. The interview is clearly being written with an agenda. At one point, Scalfari writes:
Francis - I allow myself to call him that because it is the Pope himself who suggests it by the way he speaks, the way he smiles, with his exclamations of surprise and understanding - looks at me as if to encourage me to ask questions that are even more scandalous and embarrassing for those who guide the Church.
So Scalfari says he perceives from the Pope's body language that the pope wants him to ask scandalous and embarrassing questions?
Really?
That's an awful lot to get out of body language.
If the Pope didn't say, "Feel free to ask me scandalous and embarrassing questions" then how do we don't know the Pope wasn't just signaling friendliness and openness by his body language?
In any event, this reveals Scalfari's goals: He was trying to generate scandalous and embarrassing material for use in his news paper.
Caveat lector. Let the reader beware.
4) What did the Pope say about converting people?
Early in the interview, the following exchange occurs:
The Pope smiles and says: "Some of my colleagues who know you [Scalfari] told me that you will try to convert me [to atheism]."
It's a joke I tell him. My friends think it is you [the Pope] want to convert me [to Christianity].
He smiles again and replies Read more...
Written by OLSOS Parish
Thursday, 26 September 2013 11:04
The following insert is from an interview with Pope Francis which took place during August 2013 in Rome.
Please click this link
to read the complete interview. From
americamagazine.org
:
---

This is the text of the interview as compiled by Antonio Spadaro, S.J.
It is Monday August 19, 2013. I have an appointment with Pope Francis at 10 a.m. in Santa Marta. I, however, inherited from my father the habit of arriving early for everything. The people who welcome me tell me to make myself comfortable in one of the parlours. I do not have to wait for long and after a few minutes I am brought over to the lift. This short wait gave me the opportunity to remember the meeting in Lisbon of the editors of a number of journals of the Society of Jesus, at which the proposal emerged to publish jointly an interview with the pope. I had a discussion with the other editors, during which we proposed some questions that would express everyone's interests. I emerge from the lift and I see the pope already waiting for me at the door. In meeting him here, I had the pleasant impression that I was not crossing any threshold.
I enter his room and the pope invites me to sit in his easy chair. He himself sits on a chair that is higher and stiffer because of his back problems. The setting is simple, austere. The workspace occupied by the desk is small. I am impressed not only by the simplicity of the furniture, but also by the objects in the room. There are only a few. These include an icon of St. Francis, a statue of Our Lady of Luján, patron saint of Argentina, a crucifix and a statue of St. Joseph sleeping. The spirituality of Jorge Mario Bergoglio is not made of "harmonized energies," as he would call them, but of human faces: Christ, St. Francis, St. Joseph and Mary.
The pope speaks of his trip to Brazil. He considers it a true grace, that World Youth Day was for him a "mystery." He says that he is not used to talking to so many people: "I can look at individual persons, one at a time, to come into contact in a personal way with the person I have before me. I am not used to the masses," the pope remarks. He also speaks about the moment during the conclave when he began to realize that he might be elected pope. At lunch on Wednesday, March 13, he felt a deep and inexplicable inner peace and comfort come over him, he said, along with a great darkness. And those feelings accompanied him until his election later that day.
The pope had spoken earlier about his great difficulty in giving interviews. He said that he prefers to think rather than provide answers on the spot in interviews. In this interview the pope interrupted what he was saying in response to a question several times, in order to add something to an earlier response. Talking with Pope Francis is a kind of volcanic flow of ideas that are bound up with each other. Even taking notes gives me an uncomfortable feeling, as if I were trying to suppress a surging spring of dialogue.
Who Is Jorge Mario Bergoglio?
I am a sinner. This is the most accurate definition. It is not a figure of speech, a literary genre. I am a sinner.I ask Pope Francis point-blank: "Who is Jorge Mario Bergoglio?" He stares at me in silence. I ask him if I may ask him this question. He nods and replies: "I ​​do not know what might be the most fitting description.... I am a sinner. This is the most accurate definition. It is not a figure of speech, a literary genre. I am a sinner."
The pope continues to reflect and concentrate, as if he did not expect this question, as if he were forced to reflect further. "Yes, perhaps I can say that I am a bit astute, that I can adapt to circumstances, but it is also true that I am a bit naïve. Yes, but the best summary, the one that comes more from the inside and I feel most true is this: I am a sinner whom the Lord has looked upon." And he repeats: "I ​​am one who is looked upon by the Lord. I always felt my motto, Miserando atque Eligendo [By Having Mercy and by Choosing Him], was very true for me."
The motto is taken from the Homilies of Bede the Venerable, who writes in his comments on the Gospel story of the calling of Matthew: "Jesus saw a publican, and since he looked at him with feelings of love and chose him, he said to him, 'Follow me.'" The pope adds: "I think the Latin gerund miserando is impossible to translate in both Italian and Spanish. I like to translate it with another gerund that does not exist: misericordiando ["mercy-ing"].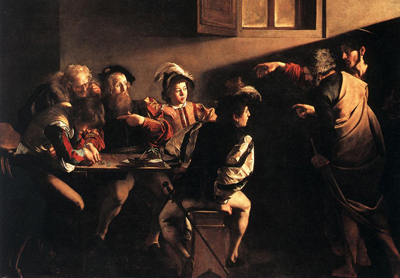 Pope Francis continues his reflection and says, jumping to another topic: "I do not know Rome well. I know a few things. These include the Basilica of St. Mary Major; I always used to go there. I know St. Mary Major, St. Peter's...but when I had to come to Rome, I always stayed in [the neighborhood of] Via della Scrofa. From there I often visited the Church of St. Louis of France, and I went there to contemplate the painting of 'The Calling of St. Matthew,' by Caravaggio.

"That finger of Jesus, pointing at Matthew. That's me. I feel like him. Like Matthew." Here the pope becomes determined, as if he had finally found the image he was looking for: "It is the gesture of Matthew that strikes me: he holds on to his money as if to say, 'No, not me! No, this money is mine.' Here, this is me, a sinner on whom the Lord has turned his gaze. And this is what I said when they asked me if I would accept my election as pontiff." Then the pope whispers in Latin: "I am a sinner, but I trust in the infinite mercy and patience of our Lord Jesus Christ, and I accept in a spirit of penance."
Read more...
<<

Start

<

Prev

1

2 3 4 5 6 7 8 9 10 Next > End >>


Page 1 of 53